Ultimate LouvreSystem – "a roof for all occasions"
Designers and Owners needed a dependable solution to provide a sensational shelter outcome at the new Cider House (under construction). The Ultimate LouvreSystem Verandah was chosen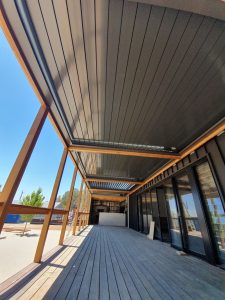 due to its stunning design appeal plus the many options it provides to its users.
Ultimate Louvre System with optional aluminium 150 or 200mm width louvres both provide a Sleek, Stylish and a Modern Visual outcome to any outdoor area. The system is an "Opening and Closing Louvre System" that provides the user options to fully or partially open louvres to provide ambient light and shade or completely close louvres providing a weatherproof outcome. The choice is yours!
The multiple bay option, on show at Cider House, offers the ability to control each bay individually for the solution you need in that area all at with the touch of a button from your remote control. Shade on those hot summer days or light and heat on those chilly sunny winters days.
Benefits aPlenty:

Our Australian Made Ultimate Louvres are an extruded structural aluminium blade (10 years structural warranty). Our systems stainless steel fittings are the perfect solution for all locations including the seaside. Motors are fully sealed (IP07) with stainless steel fittings (7 years warranty) are just the right piece of mind you need for a stunning outdoor verandah. Our tough aluminium blades and tracks are fully engineered of the highest structural and corrosion grade available, rustproof and ready for the outdoors.
Ultimate Louvres are weatherproof under almost all rain conditions with a proven effective interlocking blade when closed.
Ultimate LouvreSystems is controlled via a remote control handset, which can also control lighting and other outdoor products, plus featuring an automatic rain sensor to ensures the area will be rainproof within 8 seconds from fully open even when you're not at home. Otherwise, your remote control will provide you with the versatility to control the light, shade and heat just how you want it.
How to Arrange a Quote
Go to distributors page to select a distributor near you
To get your Ultimate LouvreSystem in Adelaide contact our Adelaide distributors direct Victory Home Improvements to get a design and quote arranged to suit your needs a home or a work.